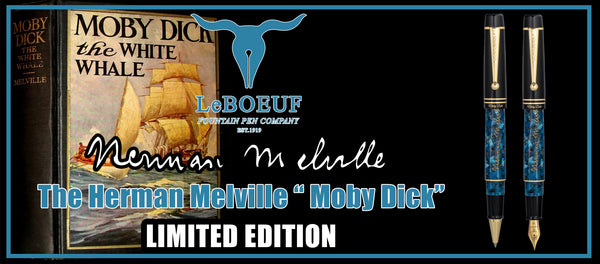 The Herman Melville "MOBY DICK" Limited Edition
Herman Melville was born on August 1st, 1819, in New York City. He was largely self-taught, reading literature, technical manuals, historical textbooks, and religious texts. From the age of twelve, he held a variety of jobs, and in 1839 he shipped out as a cabin boy on the whaling ship Achushnet. The experience would later be translated into what is now his most famous novel, Moby-Dick. First Published in 1851, Moby-Dick was initially, a commercial failure. Depressed by this, Melville turned to more marketable writing, and in this period, he began to write his short stories. The stories were usually published in magazines. Melville went on to write many more stories and novels, but none of them ever enjoyed the popularity of Typee during his lifetime. Melville died in 1891. Thirty years later, critics rediscovered his works, including Moby Dick, and thus began the process of creating the enormous reputation that Herman Melville enjoys today. Moby Dick is now considered one of the most significant novels ever written and helped cement Herman Melville as one of the 19th century's most accomplished Novelists.
The LeBOEUF Herman Melville "Moby Dick" Limited Edition was created using a stunning Deep Ocean Marine Blue Acrylic barrel specially chosen to symbolize the Ocean setting for which much of Moby Dick's novel takes place. Each Barrel is engraved with Herman Melville's famous signature in gold fill and a Gold-plated embossed coin featuring a portrait of "Moby Dick" over a boat has been carefully placed atop each pen cap. A Gold-plated clip and band enhance the elegance of this very special pen. The Herman Melville "Moby Dick" Limited Edition is available as both a Fountain Pen and Roller Ball. Each Fountain Pen features a German 14kt gold plated nib in both Fine and Medium point and utilizes a cartridge/convertor filling system. The Roller Ball uses a standard international refill. Each pen is packaged n a special commemorative Black packaging which features Herman Melville's famous signature and a Gold embossed image of Moby Dick
The LeBoeuf Herman Melville "Moby Dick" Limited Edition is a stunning tribute to one of America's greatest authors and his most significant contribution to American literature, the novel Moby Dick.