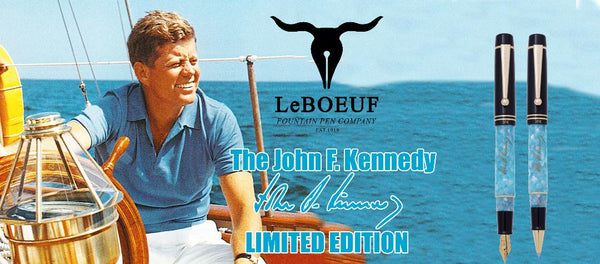 The John F. Kennedy Limited Edition
The LeBoeuf Pen Company is proud to honor our 35th President, John F. Kennedy with this stunning limited edition Fountain pen and Roller Ball.
 John F. Kennedy was born into a wealthy, politically connected Boston family. He and his eight siblings enjoyed a privileged childhood of elite private schools, sailboats, servants, and summer homes. During his childhood and youth, Kennedy suffered frequent serious illnesses. Nevertheless, he strove to make his own way, writing a best-selling book while still in college at Harvard University and volunteering for hazardous combat duty in the Pacific during World War II. Kennedy's wartime service made him a hero. After a short stint as a journalist, Kennedy entered politics, serving in the US House of Representatives from 1947 to 1953 and the US Senate from 1953 to 1961.
In 1961, Kennedy became the youngest person elected US president and for many observers; his presidency came to represent the ascendance of youthful idealism in the aftermath of World War II. The promise of this energetic and charismatic leader was not to be fulfilled, as he was assassinated in 1963 near the end of his third year in office. For many Americans, the public murder of President Kennedy remains one of the most traumatic events in memory; countless Americans can remember exactly where they were when they heard that President Kennedy had been shot. 
The LeBOEUF John F Kennedy Limited Edition was produced with a unique Camelot Blue Pearl Acrylic barrel that pays tribute to  the Kennedy Presidency which became known as "Camelot "
Each Barrel is engraved with John F. Kennedy's signature in gold fill and a Gold plated embossed coin featuring Kennedy's portrait has been carefully placed atop each pen cap. Gold plated accents complete each pen.
The John F Kennedy Limited Edition is available as both a Fountain Pen and Roller Ball.  Each Fountain Pen features a German 14kt gold plated nib in both Fine and Medium point and utilizes a cartridge/convertor filling system. The Roller Ball uses a standard International refill.
Each pen is packaged n a special commemorative Navy Blue box that features John F Kennedy's famous signature.
The LeBOEUF John F Kennedy (JFK) Limited Edition is a stunning tribute our 35th President whose accomplishments and sacrifice in his brief tenure as President made him one of the World's most enduring figures.
.