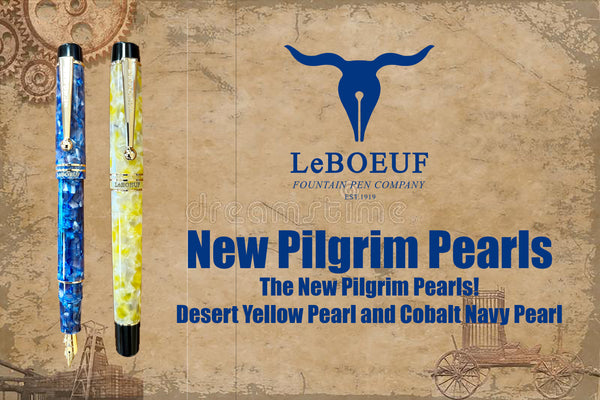 The Pilgrim Pearl Collection
The New LeBOEUF Pilgrim  Pearl Collection
Desert Yellow Pearl
Cobalt Navy Pearl
The LeBOEUF Fountain Pen Company introduces two new celluloid inspired finishes in its flagship model, The Pilgrim Collection.  Originally released in the 1930's, the new Pilgrim collection is a vintage inspired reproduction of this LeBOEUF timeless classic.
 The new Pilgrim Collection was designed with strict attention paid to the subtle details and high quality that made the original Pilgrim s admired and valued by generations of pen enthusitsts.
Available in two new celluloid inspired finishes, Desert Yellow Pearl and Cobalt Navy Pearl. Each writing instrument features a gold plated clip and band. The Fountain Pen is fitted with a German gold-plated nib with the LeBOEUF logo in both Fine and Medium point sizes and utilizes a cartridge/convertor filling system. The LeBOEUF Pilgrim is also available as a Roller Ball which uses an international style roller ball refill.
The New LeBOEUF Pilgrim Collection,  a Vintage inspired collection  that pays homage to the heritage of the LeBoeuf Fountain Pen Company and its most iconic pen, The Pilgrim.