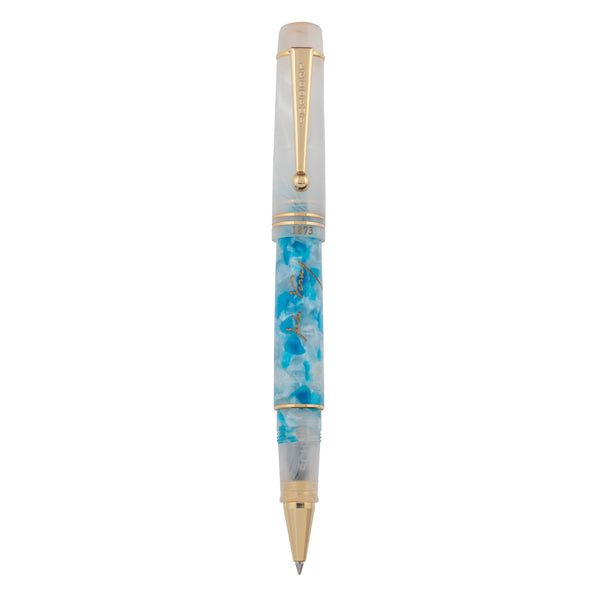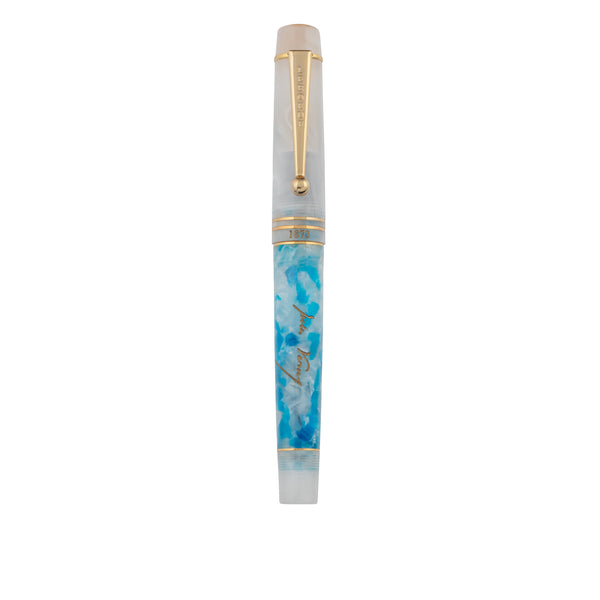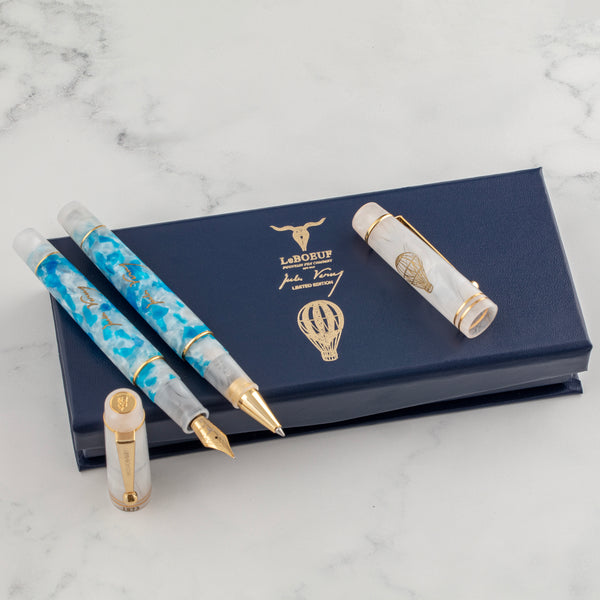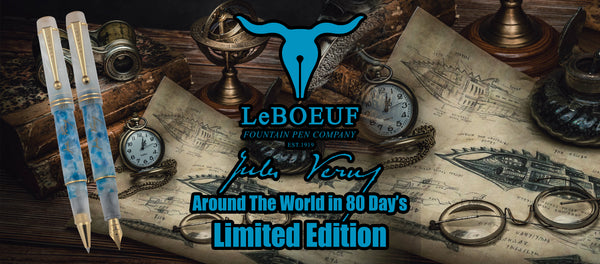 The LeBoeuf Pen Company proudly presents the Jules Verne "Around the World in 80 Day's" Limited Edition which honors the 150th anniversary of the publication of this iconic novel which continues to bring enjoyment to readers of all generations.
Born on February 8th, 1828, Jules Verne was one of literatures most celebrated figures and a visionary, whose writings were full of futuristic inventions. Some of his most much-admired novels include 'Journey to the Center of the Earth', 'Twenty Thousand Leagues Under the Sea',  and of course, 'Around the World in Eighty Days'. His writing career includes 65 novels, 30 plays and many short stories, essays, and opera librettos. One of the greatest and most imaginative wordsmiths, Verne has been the inspiration of several scientists including submarine designer Simon Lake, aviation pioneer, Alberto Santos-Dumont, rocketry innovators, Konstantin Tsiolkovsky, Robert Goddard and Hermann Oberth. The extraordinary sci-fi voyages of Jules Verne continue to inspire art, culture, and technology 150 years after the publication his most famous novel. Jules Verne died on March 24, 1905. His works are still enjoyed the world over by readers of every generation.
The LeBoeuf Jules Verne Limited Edition was carefully designed and inspired by Verne's most famous novel "Around the World in 80 Days".  By using a unique process, we were able to produce a special exclusive acrylic which gives the effect of voluminous cloud in a bright blue sky, a feature so prevalent in this classic Novel. This material was purposefully selected to represent the Travel and adventure theme of this work. As an added feature, a gold travel balloon is engraved on to each cap to appear to be floating in the sky. Each pen has been carefully turned and high polished with Jules Verne's famous signature engraved in Gold on to each barrel. A Gold coin with a bust of Jules Verne is fitted on to the top of each cap. Gold Plated accents accentuate the elegance of this unique writing instrument.
Each Jules Verne Fountain Pen features a German Gold-plated nib featuring the LeBoeuf logo in both Fine and Medium Points and utilizes a cartridge/Convertor filling system. A Roller Ball version is also available and uses a Standard International Roller Ball refill. Both the Fountain Pen and Roller Ball are limited to 125 pcs Worldwide.
The Jules Verne Limited Edition celebrates the life of one of the world's most celebrated and the 150th Anniversary of his greatest novel, "Around the World in 80 Day's".