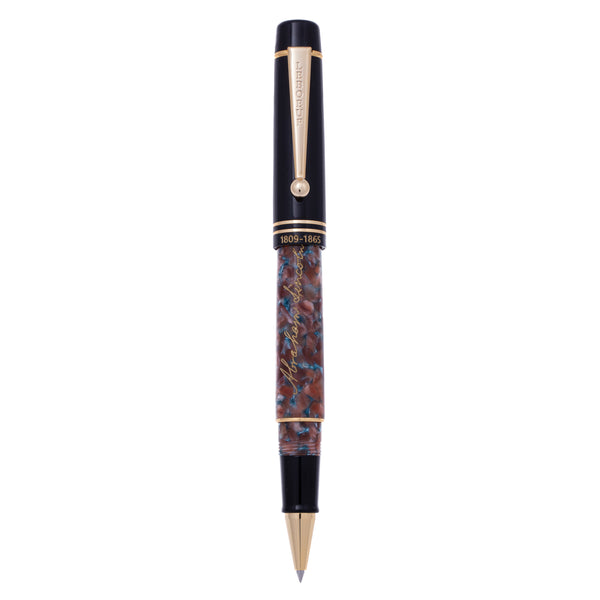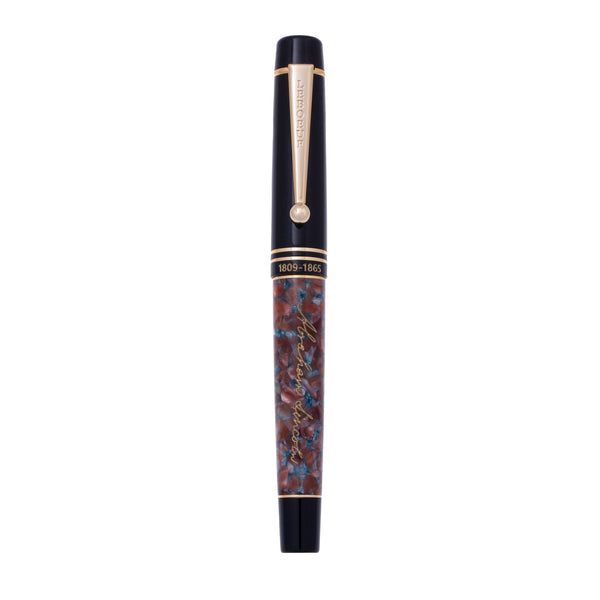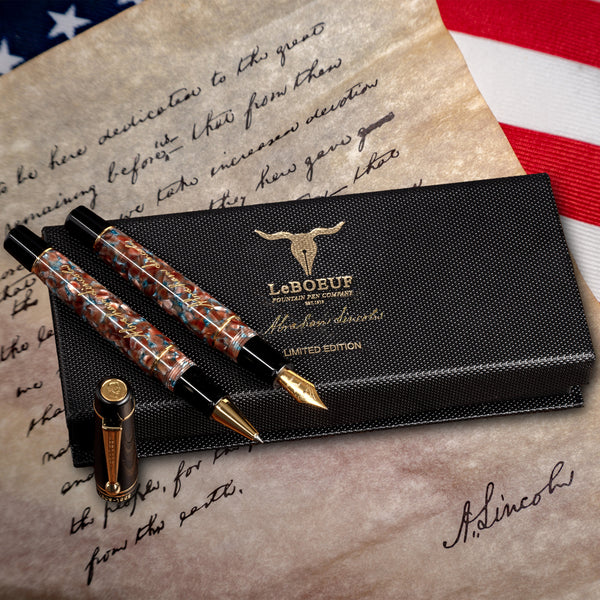 The LeBoeuf Abraham Lincoln Limited Edition
The LeBOEUF Fountain Pen Company celebrates the life of America's greatest President, Abraham Lincoln, with the release of this stunning Limited Edition Fountain Pen and Roller Ball.
Abraham Lincoln was born in Hodgenville, Kentucky on Feb 12, 1809. Raised by poor parents, he received less than a year of formal education by the time he reached the age of 21. His primary means of education was schooling at home, using borrowed books and the Bible.
At the age of 22, he moved to the Illinois village of New Salem, and continued his self-education by borrowing books and teaching himself subjects such as grammar, history, mathematics, and law.
Less than a year after moving to New Salem, he ran for the state legislature. Although defeated in this initial effort he decided to run again the next term. His second effort proved successful, and he was elected to the Illinois State Legislature in 1834. Vocally anti-slavery, he served four consecutive terms as state legislator, and before he had left that office was admitted to the Illinois bar. He soon became one of the most respected lawyers in the region, known for his honesty and influential manner with juries.
From 1847 to 1849 Lincoln served a single term in Congress, and then went into semi-retirement from politics in order to concentrate more on his law practice. Lincolns desire to serve his Nation motivated him to reenter the political arena. In 1858, he ran for the US Senate, providing energetic moral argument against slavery Lincoln lost the Senate race to Douglas but was nonetheless elected President in 1860 of a Country on the brink of Civil War.
 Lincoln's greatest achievement was issuing the Emancipation Proclamation which freed the slaves of the rebelling southern states. The Emancipation Proclamation took effect on January 1, 1863. In November 19, 1863, Lincoln presented the Gettysburg address, now recognized as one of the world's greatest speeches.
Lincoln was re-elected president in November of 1864. His Second Inaugural address was delivered less than 6 weeks before his assassination on April 14th 1865.
The LeBoeuf Abraham Lincoln Limited Edition pays homage to this great leader with this beautifully designed Fountain Pen and Roller Ball. Made from an exclusive Hickory Brown/Bluegrass Blue marbleized acrylic. This material was purposefully selected to represent Abraham Lincoln's early Kentucky roots beginning with his childhood Log Cabin home.  Each pen has been carefully turned and high polished to a vibrant luster. Abraham Lincoln's famous signature is engraved in Gold on to each barrel.  A Gold coin with a bust of Lincoln is fitted on to the top of each cap. Gold Plated accents accentuate the elegance of this very special writing instrument.
The Abraham Lincoln L Fountain Pen features a German Gold plated nib featuring the LeBoeuf  logo in both Fine and Medium Points and utilizes a cartridge/Convertor filling system.  A Roller Ball version is also available and uses a Standard International Roller Ball refill. Both the Fountain Pen and Roller Ball are limited to 125 Pcs Worldwide.
The Abraham Lincoln Limited Edition celebrates the life of one of the world's most admired figures who as President, helped rid the country of Slavery and unite the country after a bitter Civil War.
SPECS
Overall Size - 5 5/8 in. x 5/8 in. (142mm x 16mm)
Body - 5 in. x 9/16 in. (126mm x 15mm)
Cap - 2 1/2 in. x 5/8 in. (66mm x 16mm)
Weight - 22 g
Composition - Acrylic resin
Appointments - Gold plating